Online collaborative tools for all carers
famiDesk is a collaborative messaging based on the paper communication notebook integrating both the human environment as technological.  It brings together caregivers (caregivers, neighbors, friends, distant families ...), health professionals, care and personal services around and with the person helped.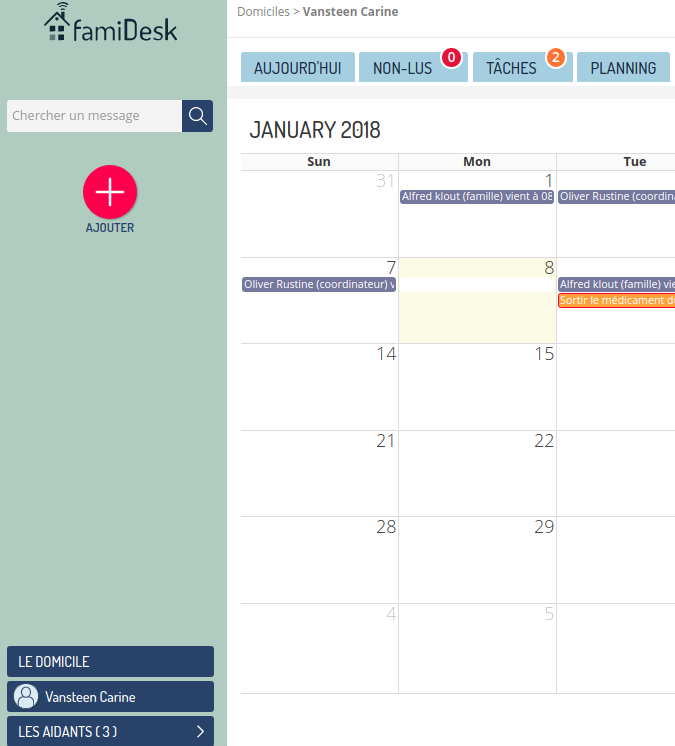 Here are some advantages among many others ...
Valuation of aid
The observations recorded in the messaging system allow health and care professionals as well as the beneficiary and his / her family to have a real follow-up in the organization at home. (house, apartment, hospital ...)
Always with me
Messaging is accessible on a computer, tablet and smartphone so that messages are always at hand. I choose if I need to receive notifications to be more serene at work or on vacation.
Secured
The information is centralized and secure. No more unsecured paper notebook hanging on a piece of furniture. Messages are only available to the intended recipients. (SSL-SHA256, accommodation in Frankfort, Germany)
Communicate, organize, reassure
Messaging can help find solutions together and then easily find them, anticipate problems and feel reassured in all circumstances.
Break the isolation
Caregivers are not at home at the same time. For the caregiver, like the beneficiary, a sense of isolation may occur. The messaging helps to feel supported by the family but also by colleagues. 
Respect for privacy
There is no doubt that privacy is central to any system that respects its users. famiDesk is committed to ensuring that your data remains your property but also that you can preserve your privacy.
Much more than a notebook
famiDesk brings the paper communication notebook back into the digital age by erasing imperfections to optimize their use.
1. an account
I create an account free by completing my profile. It will only be visible to users who will have access to the home.
2. a home
I create a virtual sharing space called home famiDesk or I join an existing home following an invitation.
3. Invite
I invite other users to join the home I created. They can then access the messages if they are the recipients. 
4. Communicate
I can begin to organize myself by recording my observations as in a communication book.
Setting up home helpers requires organization, communication to feel reassured and in symbiosis with all stakeholders. famiDesk is a set of online tools and services optimized to help you organize and be more efficient together.
Receive by email information and news from famiDesk
It's true for everyone, it's hard to ask for help. We want to get by ourselves. We are convinced that it will be difficult to find the right people, the right services. Often, we are not even aware that we are helping so much it is natural. Yet exhaustion is waiting for us.
It is important to be in good health to care for a loved one. With famiDesk, you can start by organizing yourself. 
What is famidesk's mission?
The main mission of the online communication notebook famiDesk is to bring together the family, the various stakeholders * and the beneficiary (s) of care services around a secure and simple tool to use every day for communication and an optimal organization.
* Stakeholders = caregivers, health and home care professionals, neighbors, delivery men ...
Who is famidesk for?
The communication book is aimed at both health professionals and individuals. It allows you to organize and organize yourself on the spot or at a distance between caregivers around and with the beneficiary to find solutions together before the small problems become insurmountable. The observations are recorded by all the caregivers as well as by the technology environment when it exists in the beneficiary's living environment.
When should I start using famidesk?
As soon as the need to organize around one or more people with loss of autonomy is felt. When you start leaving messages on pieces of paper or when you want to set up a paper communication book. It is also better to use famiDesk rather than emails or social networks not suitable for this type of situation.
How does famidesk work?
I create my profile on famidesk.com (register button)
I create a virtual home or I join an existing home
I invite other users to join the virtual home
I communicate and I organize myself
What are the features?
famiDesk is a platform dedicated to communication in the form of messages related to people living or revolving around one or more persons with loss of autonomy or who wish to feel reassured. The messages are of different types. There are messages of moods, tasks, plannifications. Extensions add additional features to suit your needs.
What does it cost
Access to famiDesk is free. The proposed features correspond to an implementation to help a person with a loss of autonomy. Advanced features and extensions are available as a subscription specifically designed for business use or as a demanding user.