famiDesk is a collaborative messaging based on the paper communication notebook integrating both the human environment as technological.  It brings together caregivers (caregivers, neighbors, friends, distant families ...), health professionals, care and personal services around and with the person helped.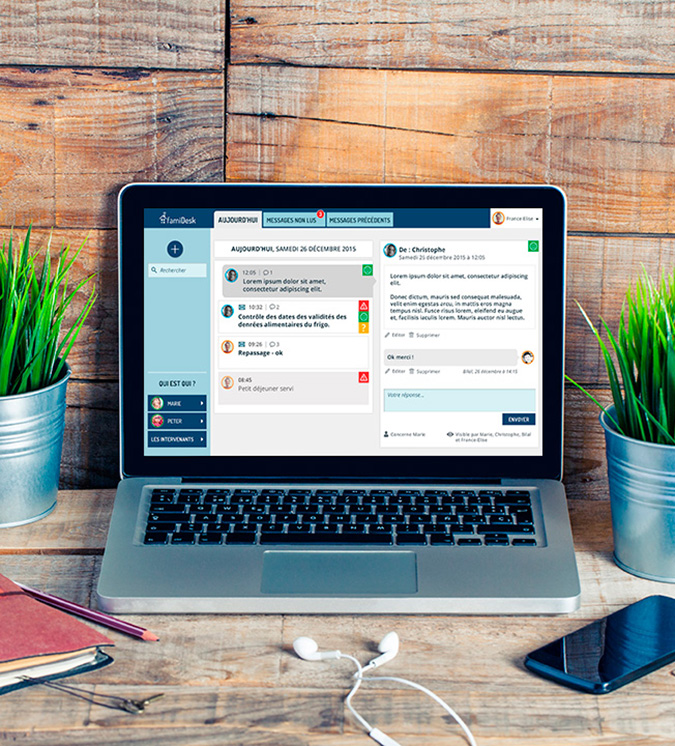 Simplify your organization with centralized and secure messaging.
famiDesk est adapté à votre organisation quotidienne grâce à la messagerie, aux tâches et à la planification. C'est un jeu d'enfant de consigner les observations, les remarques et commentaires accompagnés de documents, de photos ou de fichiers à destination de tous, d'un groupe d'utilisateurs ou d'une personne de confiance.  Une tâche n'est plus oubliée et reste suivie jusqu'à sa résolution. Le planning permet de savoir qui est sur place et comment va se dérouler les prochaines semaines.
Une plateforme d'échange pour s'organiser…
No need to install a mobile application, famidesk is used in the same way on computer, tablet and smartphone via your favorite browser for simplicity.
Communication between stakeholders is crucial for aid effectiveness. Even the distant family can participate in well-being while being reassured of the safety of their loved one. The recipient of services and home care can take part in the communication by becoming an actor of his own autonomy.
No more working in your own corner without considering the other. Anticipating problems by communicating is the key.
The information is centralized and secured for consultation under ideal conditions. Caregivers can organize and rely on each other. By organizing yourself, you will save precious time and avoid exhausting yourself.
A new caregiver? A moment of respite? no worries, all the instructions are in famiDesk. Good division of labor helps to avoid unnecessary stress and wasted time.
Here are some advantages among many others ...
Valuation of aid
The observations recorded in the messaging system allow health and care professionals as well as the beneficiary and his / her family to have a real follow-up in the organization at home. (house, apartment, hospital ...)
Always with me
Messaging is accessible on a computer, tablet and smartphone so that messages are always at hand. I choose if I need to receive notifications to be more serene at work or on vacation.
Secured
The information is centralized and secure. No more unsecured paper notebook hanging on a piece of furniture. Messages are only available to the intended recipients. (SSL-SHA256, accommodation in Frankfort, Germany)
Communicate, organize, reassure
Messaging can help find solutions together and then easily find them, anticipate problems and feel reassured in all circumstances.
Break the isolation
Caregivers are not at home at the same time. For the caregiver, like the beneficiary, a sense of isolation may occur. The messaging helps to feel supported by the family but also by other caregivers.
Respect for privacy
Nul doute que la vie privée est un élément central dans tout système qui respecte ses utilisateurs. famiDesk s'engage à ce que vos données restent votre propriété mais également que vous puissiez préserver votre vie privée. 
Much more than a notebook
famiDesk was designed to provide a solution for caregivers in their daily challenge of helping others. We are also active helpers but we co-build with the field actors.
Nous sommes une entreprise collaborative, ouverte et innovante. La plateforme est construite sur un modèle de partage et orientée vers le partenariat avec des sociétés partageant les mêmes valeurs éthiques.
1. an account
I create an account free by completing my profile. It will only be visible to users who will have access to the home.
2. a home
I create a virtual sharing space called home famiDesk or I join an existing home following an invitation.
3. Invite
I invite other users to join the home I created. They will then be able to access messages from home.
4. Communicate
I can begin to organize myself by recording my observations as in a communication book.
Setting up home helpers requires organization, communication to feel reassured and in symbiosis with all stakeholders. famiDesk is a set of online tools and services optimized to help you organize and be more efficient together.
What is the mission of famiDesk?
The main mission of the famiDesk online communication booklet is to bring together the family, the various stakeholders * and the patient (s) / beneficiary (s) of home care services around a tool that is secure and simple to use every day for optimal communication and organization.
* Stakeholders = caregivers, health and home care professionals, neighbors, delivery men ...
Who is famiDesk for?
The communication book is aimed at both health professionals and individuals. It allows you to organize and organize yourself on the spot or at a distance between caregivers around and with the beneficiary to find solutions together before the small problems become insurmountable. The observations are recorded by all the caregivers as well as by the technology environment when it exists in the beneficiary / patient's living environment.
When should I start using it?
As soon as the need to organize around one or more people with loss of autonomy is felt. When you start leaving messages on pieces of paper or when you want to set up a paper communication book. It is also better to use famiDesk rather than emails or social networks not suitable for this type of situation.
What information do I need to record?
You can log all observations, tasks, events, documents which will make your life easier in your daily organization. Who is who ? How does the organization set up? Who is coming this week and when will she be there? Who will pick up the races? Who makes food? Who does the administration? ... An important letter, a photo, a prescription are quickly shared. A solution has been found, it can be found easily in messages via the search engine. Remember to make life easier for other caregivers and the beneficiary.
Puis-je avoir confiance en famiDesk ?
famiDesk a été imaginé et développé en réaction à l'utilisation des réseaux sociaux pour partager des données sensibles. Nous avons pris comme modèle Mozilla (navigateur Firefox) ou encore Qwant (moteur de recherche). Nous plaçons l'humain, le partage, la communication, la collaboration, l'esprit critique, la créativité, la vie privée et l'écologie au centre de nos préoccupations.  Pour réaliser ces objectifs et rester indépendant, famiDesk ne dépend pas d'autres financements que les abonnements que nous vous proposons pour utiliser famiDesk. Vos données vous appartiennent. Elles ne sont utilisées que pour votre confort dans l'utilisation de famiDesk. Pas de vente de données ou de partage à des compagnies d'assurances, pas de vente à des places de marché publicitaire à votre insu et sans votre consentement, vous pouvez dormir sur vos deux oreilles. Les règles européennes de protection de la vie privée sont suivies et appliquées.
How to start?
I create an account by filling my profile by clicking on Registration (menu at the top right)
I create a sharing space (home famiDesk) or I join an existing home on the basis of an invitation.
I invite other users to join the home online.
I communicate, I organize myself and I feel reassured.
What are the features?
famiDesk is a platform dedicated to communication in the form of messages related to people living or revolving around one or more persons with loss of autonomy or who wish to feel reassured. The messages are of different types. There are messages of moods, tasks, plannifications. Extensions add additional features to suit your needs.
What does it cost?
Access to famiDesk is free. The features proposed by default correspond to an implementation to help a person with loss of autonomy. Advanced features and extensions are offered as a subscription specifically designed for business use or as a demanding user.
What happens if there is a technical problem?
Most of the time, it's the internet connection that is cut off. Work on the street, a Wi-Fi that does not work, a slow Internet, a lack of data on your smartphone, a computer that breaks down, a system update ...
These are temporary problems that are mostly settled quickly via the technical services and support of the companies concerned or the replacement of defective equipment.
Nevertheless, we advise you to put a box in the fridge with important information on a piece of paper. (surname, first name, blood type, allergies, contact persons, etc.)
We also propose to keep a look in which we can find paper transmission book of the doctor is the prescriptions. You will be able to photograph the family doctor's reports and prescriptions to share them with the people concerned via famidesk and find them easily later while keeping access to important information in case of technical problems.