Updated to version 0.9.88
List of updates
Here is the list of improvements and new features of the new version 0.9.88 appeared in September.
Improvement :
Changing the navigation
The navigation has been modified to have more consistency.
In zone 1 (in red in the image below), the links of the navigation path quickly return to the home page or the home page.
In zone 2, the main menu at the top right of the screen gives access to the different main sections of the home such as "Information", "Documents", "Beneficiaries", "Caregivers", "Invite a Caregiver", "List of Homes" and "Help" . The house icon is a shortcut to quickly return to the home page.
In zone 3, the menu in the left column offers you substantially the same possibilities as the top menu. In some sections, for example in "Information", a zone 4 defines a submenu allowing you to navigate to the details of home information, the selection of extensions or the configuration of notifications.
New features :
Automatic backup
The encoding of a message is now saved automatically to allow you to do an urgent task and back without losing everything you've already encoded. In the web version (computer), a timer allows you to automatically exit famidesk to avoid, in the case of sharing a computer, to use the account of the person who had used famidesk before without disconnecting. It is now possible to find his encoded text even if an automatic logout has occurred.
Recurrence
When encoding a task or event in the schedule, it is possible to make the entry recursive. For example, a doctor's appointment every 15 days, the delivery of meals every day except for the weekend, the exit of blue bins on Monday and the white on Thursday every week ...
Recurrence fields appear when encoding a date.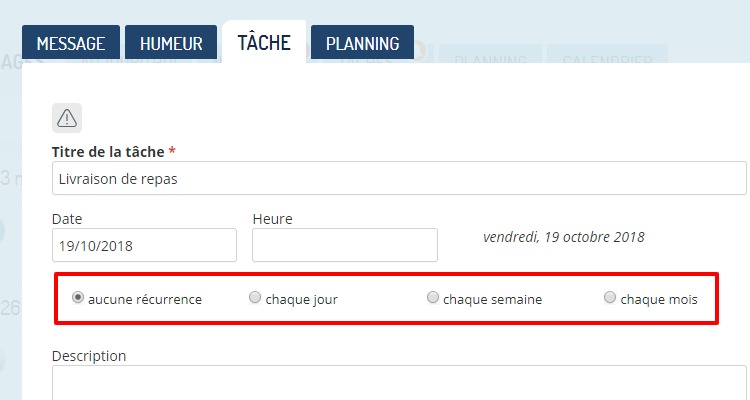 The recurrence function is available when encoding a task (see image above) and when encoding an event in the schedule.
Documents
A documents section appeared for centralize important documents without having to search the documents in the messages. Access to documents is secure. A document can be made available to certain recipients by selecting them by means of groups and / or individually by person for more granularity. By default, the document will be accessible to everyone.
To access the list of documents, go to the home of your choice and click on "Documents" in the top menu or in the menu in the left column.

If you have any questions, contact us using this form.